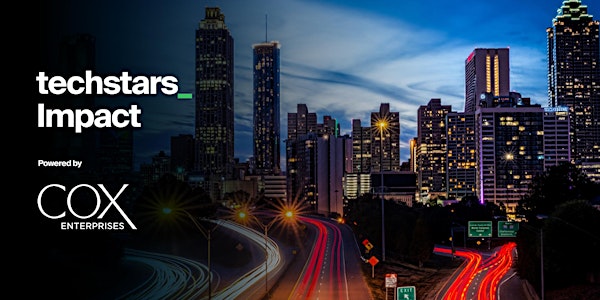 Join us for our live, in-person Demo Day on April 13, 2023 at 5 p.m. EST. Tim Dorr, managing director of Techstars Impact Powered by Cox Enterprises; and the rest of the Techstars Impact team will host the event.
You'll have an opportunity to hear this years' class of Techstars Impact founders as they take the stage to tell their stories and pitch their businesses. Also joining this event will be Dallas Clement, President and Chief Financial Officer of Cox Enterprises, who will discuss Atlanta's rising status as a global hub for innovation and tech entrepreneurship.
Immediately following Demo Day, join us for a fun, casual reception on the rooftop where you will have the opportunity to engage with this year's founders.
Agenda
Thursday, April 13 | 5:00 – 8:00 PM
The Eastern (777 Memorial Dr SE Building C, Atlanta, GA 30316)
Venue doors open at 4:30 PM | Reception to follow upstairs on the Rooftop at The Eastern
If you have any questions, please contact Hannah Turner at hannah.turner@techstars.com.
If you can't make it in-person, you can watch the event live on April 13th. (The live streaming link will be added closer to the event.)
About the Spring 2023 Class
Solving environmental and community challenges is the future of business. The 2023 class of change makers are driven to grow the good for both people and the planet, creating technology to solve the world's biggest challenges and change our society for the better. Focus areas for their businesses include:
• Cleantech and sustainability
• Edtech, training and workforce development
• Health and wellness
• Economic empowerment
• Social good and community development
About Techstars Impact Powered by Cox Enterprises
Techstars Impact Powered by Cox Enterprises launched in January 2020 to support startups addressing social and environmental challenges. The three-month accelerator provides 10 for-profit, mission-driven companies access to a broad network of mentors, including Cox Enterprises experts, to guide them in the early stages of their businesses.
Techstars COVID-19 Policy
All in-person attendees must be fully vaccinated at least 14 days prior to attending the Demo Day event.
Prior to attending the event, please self-screen for any of the listed COVID-19 symptoms and self-quarantine if feeling sick.
Masks are recommended when indoors at the event.
6'/2m' social distancing is recommended between non-household members.
Please abide by all local travel restrictions – COVID-19 testing, isolation mandates, and vaccination/recovery recommendations – prior to attending the event in person.
Due to the changing circumstances surrounding COVID-19 mandates, Techstars Impact Powered by Cox Enterprises reserves the right to move Demo Day to a virtual format.
——
Admission will not be permitted after the venue reaches capacity. No large bags or backpacks are allowed in the venue.
Guests are prohibited from bringing weapons into the venue or any other item that could be used to inflict harm. Weapons include, but are not limited to, the following: firearms, explosives, stun guns, handcuffs, brass knuckles, sticks, clubs, batons, martial arts instruments, pepper spray, tear gas and knives of any kind. Anyone in possession of a prohibited item will be asked to leave and/or denied admission