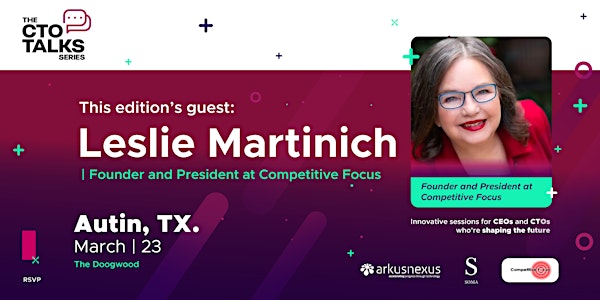 Because we want the community to keep growing, the second event of the year has arrived. Join us to meet, talk, learn and share about technology challenges.
CTO Talks is a Networking Event focused on building a tech community where CTOs, Tech Founders, and VP of engineering can add and take value by sharing their experiences. Also, this platform will allow you to meet people and make valuable connections within the tech industry.
What Can You Expect From This Meetup Event?At this event, you will find:
• Local C-level enthusiasts working on innovative businesses and projects.
• Founders and friends looking to connect with other people in the area.
• Incredible people who love to talk about software trends and challenges, digital transformation, IoT and AI, and remarkable technologies shaping our future and everything related.
• Stories to inspire you from top local speakers who will share their experiences in leading companies and successful startups.
• Learn with top tech leaders and connect with others who are at the same level of progress as you.
• …and much more!
This edition the snacks and drinks will be provided by ArkusNexus.Spread the word!
Help us grow by joining us on this adventure! We're looking forward to seeing you at our next meet-up!
Do you know someone else interested? Invite them and have fun talking about technology.