Join us to celebrate Femigrants' Third Anniversary and Re-Launch of our Startup! We are bringing together successful immigrant leaders to help you take the next step in your career. Either you are in a job market or looking for career growth, or have a great startup idea and looking for an investment – this is a unique event that you can get support, advice and benefits from it! This is where you can meet your future mentors, sponsors, investors and supporters, and get inspiration from other immigrants – both males and females!
This year we decided to talk about failure and success in a parallel as we believe that failure is a learning opportunity to gain more experience. Successful immigrants leaders joining our event will share their knowledge on the top 10 reasons of a failure, the process of unlearning and the best 10 strategies of becoming successful to BE the BEST of YOURSELF.
We will announce Femigrants' re-launch as a startup! Come and join us to learn about our new platform that will connect Femigrants globally! Our new services will help immigrant women to succeed.
It will be an outdoor event, so, feel free to get your cocktail attires out of your wardrobe! 🙂 Open to ALL genders!
VOLUNTEER
Interested in helping us with this event? Send your LinkedIn link and a short paragraph on how you can help us to successfully manage this event. Subject line: FemigrantsForum20-Volunteer. Email: info@femigrants.com
SPONSORS
Special thanks to Founder Institute for hosting us at their friendly venue. Join to the list of our sponsors to make a social impact and empower diverse women immigrants. We would love to feature our sponsors for their generosity. Send us and email and we'll get back to you providing you with the next steps. Subject line: FemigrantsForum20-Sponsor. Email: info@femigrants.com
AGENDA
5pm – 6pm Registration & Networking
6pm – 6:15pm Opening/Welcoming Guests
6:15-6:30 Femigrants' Re-Launch: A startup announcement! Products, Services, Heros/Team, Board and more**
6:30pm-7:10pm TEDx style speeches
– Irina Berkon, Femigrants from Russia, Managing Director at Golden Seeds and IBLS Global.
– Newton Paskin, an immigrant from Brazil, President & CEO of Explorer Technlogies.
– Zaid Ayoub, an immigrant from Jordan, The Founder and CEO of SAJJ Mediterranean.
– More speakers will be announced soon
7:15pm-8pm Panel Discussion
– Irem Ogut, Femigrants from Turkey. A Senior Technical Program Manager at Instagram – Facebook (panel speaker)
– Julia Minkowski, Femigrants from Russia, The Co-Founder of Russian Speaking Women in Tech Silicon Valley (panel moderator).
– More speakers will be announced soon
8pm-8:15pm Closing speeches
8:15pm-8:45pm Networking
8:45pm-9pm Check out
SPEAKERS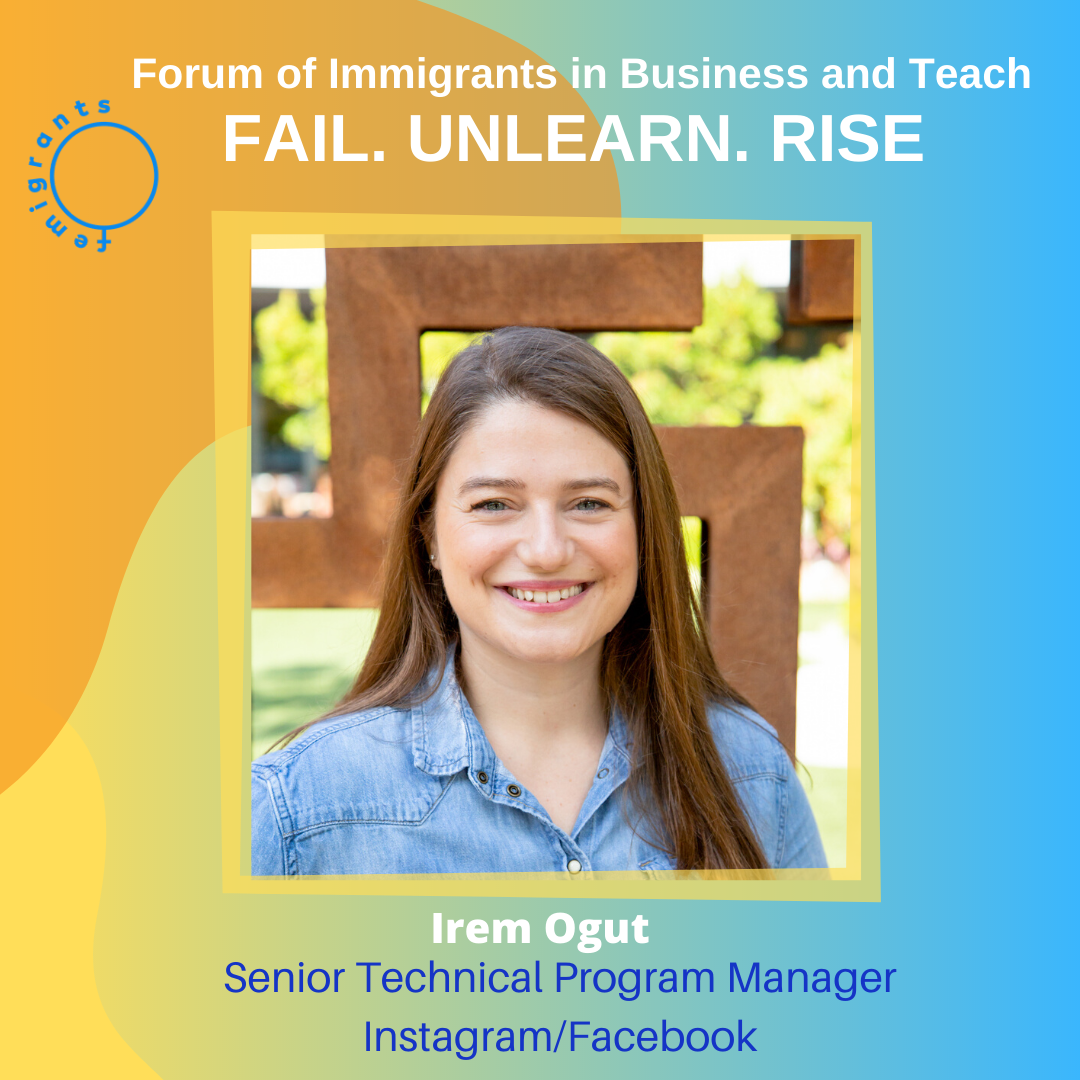 Irem Ogut is a Senior Technical Program Manager who works with engineering and product teams to help improve the efficiency of product and process development. Originally from Istanbul, Turkey, Irem came to the USA to earn her B.S in Computer Engineering degree from University of California, San Diego. After completing her degree, Irem started her career in a start-up in San Diego focusing on real estate software as an Operations specialist where she worked on product management, customer support and business operations.
She joined Facebook 5 years ago working on a wide variety of areas like human rating and machine learning platforms across London and Menlo Park offices. Recently, she has been working on making Instagram the safest and most supportive community.
Irem played volleyball competitively from young ages to college years.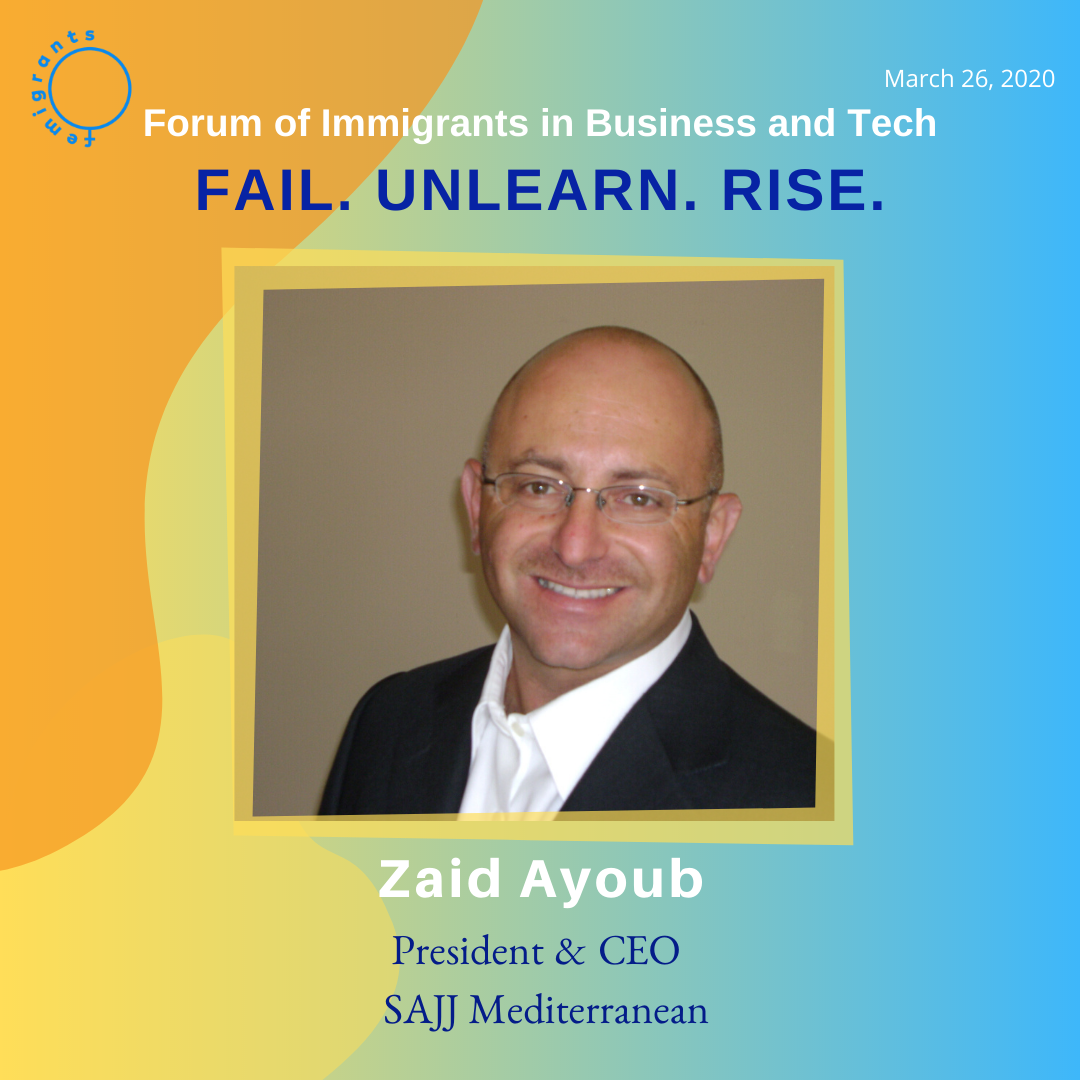 Zaid Ayoub is the founder and CEO of the Bay Area-headquartered, rapidly expanding fast-casual concept SAJJ Mediterranean. A Jordan native, Ayoub frequented a local falafel shop while in college in the U.S. studying engineering, and noticed that it often had a line out the door. He noticed if Mediterranean food could blend great flavors with streamlined operations, there was a market (full of hungry people) eager to eat it. After a few years in tech startups, a friend of his mentioned his Mediterranean fast-casual concept idea, and Ayoub and four partners took the plunge, opening the first SAJJ location in Menlo Park in 2012.
As SAJJ has grown in the last 8 years, Ayoub never took his eyes off the product: high-quality, fresh food that was also approachable and transparent. He realized that people want convenience and speed without sacrificing a culinary experience, which is why SAJJ uses a customize-your-own service model. Under Ayoub's strategic leadership, SAJJ Mediterranean has grown from that single brick-and-mortar location into a growing network of 12 restaurants and three food trucks offering catering and event services.
Ayoub plans to use his background in entrepreneurship, and his longtime love of Mediterranean food, to continue expanding SAJJ Mediterranean into a trusted restaurant brand that brings fresh, healthy Middle Eastern eats to those around the globe.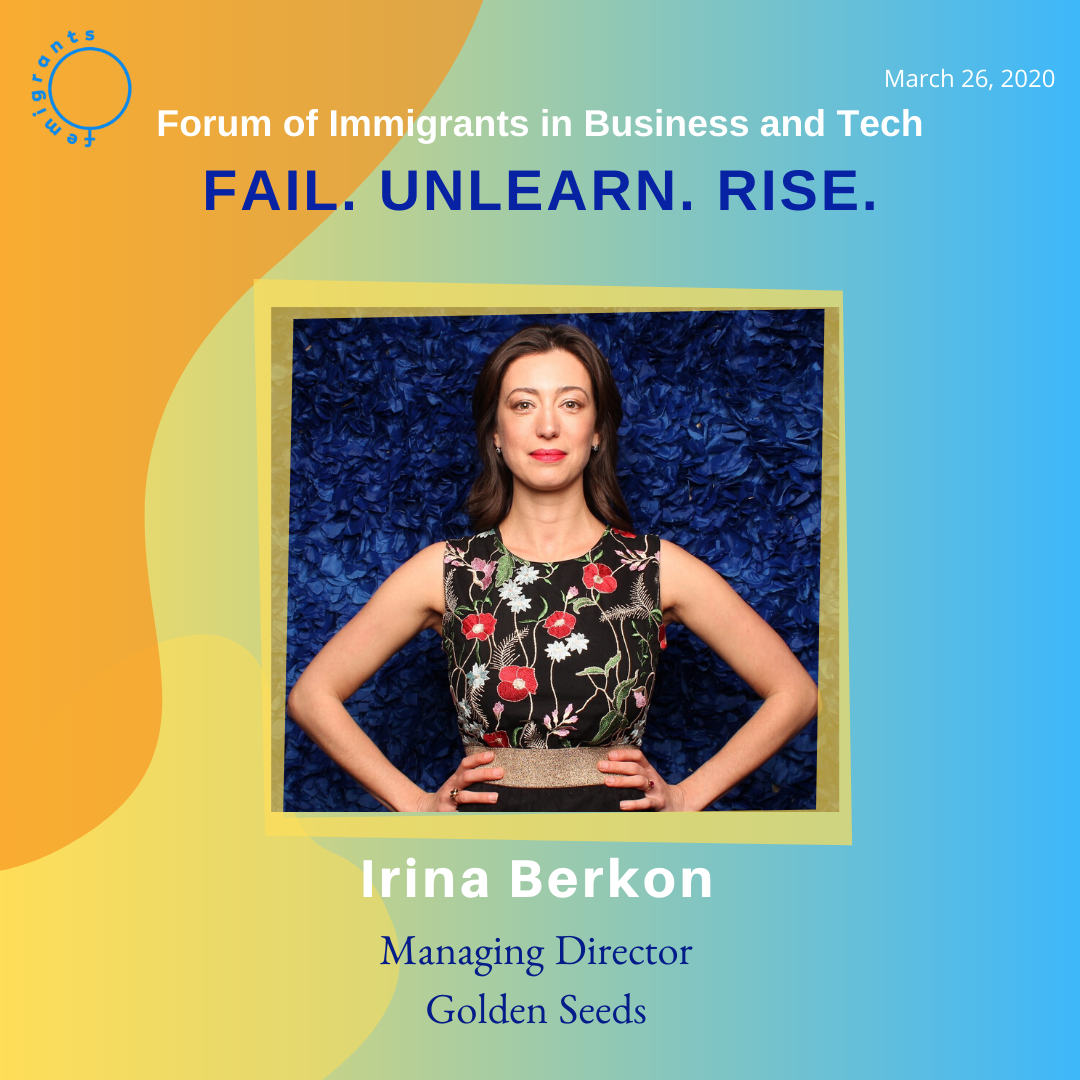 Irina Berkon is a proven finance and accounting leader, a CPA with over 15 years of progressive hands-on experience in corporate finance. She brings a solid background in the fields of IPO, start-ups, M&A, financial audits, international accounting and tax structure (US, RU, EU), corporate strategic planning and development, deal structures, sales/supply channels establishment and financing activities.
Irina is a member of various industry-specific groups and participates in publications, talks and panels on topics such as fintech, blockchain, compliance and leadership. She has delivered award-winning pitches in her role as CFO, written publications on various topics and has been featured in Forbes and other publications on the topic of fintech on blockchain. Irina is a Managing Director of 'Golden Seeds' one of the nation's most active early-stage investment firms focused on women-led businesses.
She moved to the US at the age of 14 to attend boarding school, without her parents. She has a 10 year old daughter and a husband who is also an immigrant. She loves to ski and travel.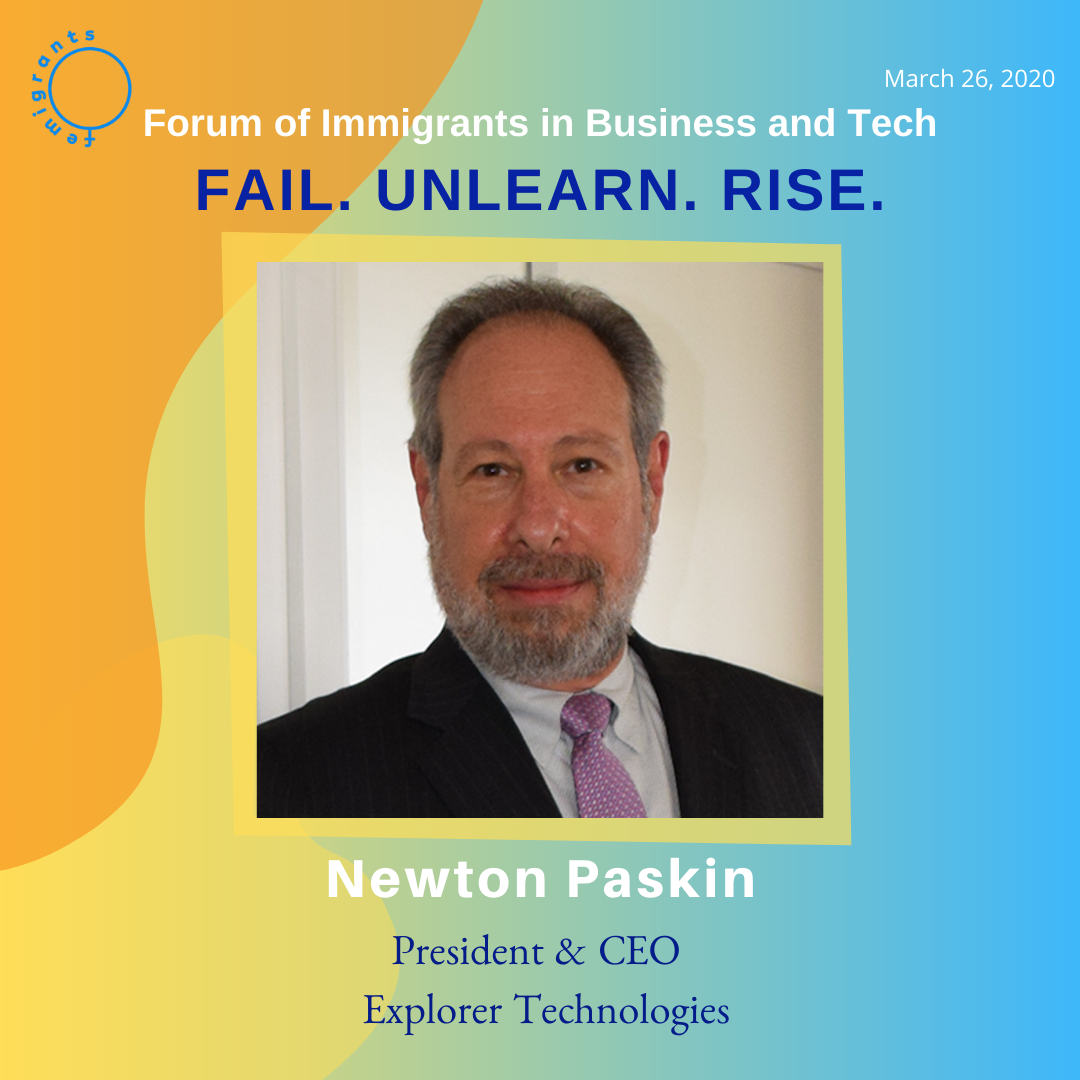 Newton Paskin is a Senior Operating Executive with extensive global experience in High Technology, Consumer Electronics, Consumer Goods Products and Defense. Funding, Accelerating and Incubating Start-Ups in Technology, Robotics, Artificial Intelligence and Machine Learning. Newton brings his experience as CEO, COO, President, Board Member & Advisor and mentor at major institutions like Singularity University and Founders Institute.
Being a founder member of 8 startups, Newton, used knowledge and experience to multiply the talents of others, created a growth culture with emphasis on Operations excellency and use of Technology to produce sustainable competitive advantage and value.
Newton's experience includes P&L & Balance Sheet responsibility, establishing Strategic Partnerships and Corporate Development, implementing and managing business operations for Consumer Electronics, Consumer Goods, Hardware, Software, Medical Devices and Defense. He is also a very avid innovator and experienced practitioner of Change Management using Culture, Business Processes and Technology as main pillars of the transformation.
Newton actively participates in the startup world in the San Francisco Bay Area as a judge, mentor, advisor and he is a frequent speaker in Innovation, Disruption and Business Transformation. He is also supporting several efforts for Innovation in Brazil and Latin America.
Newton is an avid sailor and motorhome camper (RVer) and is fluent in Portuguese, Spanish and conversant in French.
MORE SPEAKERS WILL BE ANNOUNCED SOON! Please check again later.
#FemigrantsForum20 #ForumofImmigrants #successfulimmigrants #Immigrantentrepreneurs #immigrantsinbusiness #immigrantsintech #femigrants #eventsinbay