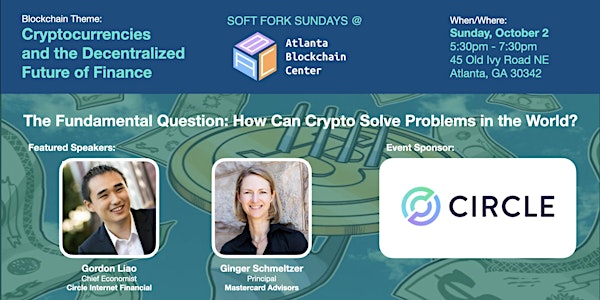 Our mission at Atlanta Blockchain Center is to be the catalyst for Atlanta's emergence 
as the premier blockchain innovation hub globally through cultivating entrepreneurship, inclusivity and education. ABC is a place to build community and learn, and so we'll host an event each an every Thursday at our co-working space in Buckhead – Atlanta's first co-working DAO – featuring leading experts on various blockchain content themes. Join us Sunday for a very special event! It's time to build 🚀
This weekends theme is:
Cryptocurrencies and the Decentralized Future of Finance
Cryptocurrency and distributed ledger technologies are rapidly transforming the financial services landscape – as a new asset class, a payment method and a disruptive technology. How are blockchain and cryptocurrencies shaping the future of money?
This week's topic is:
The Fundamental Question: How Can Crypto Solve Problems in the World?
Once a niche concept beloved of tech enthusiasts and cypher punks, the idea of a cryptocurrency being used to facilitate payments all over the world is starting to look brighter than ever. With cryptocurrency off ramps and on ramps being adopted by major retailers and payment giants like Mastercard, crypto and blockchain are on the way from being technically challenging to a form of payment that anyone could use.
Join us at Atlanta Blockchain Center for an in depth discussion on innovations in the payments processing space. Our guest speakers will explain how blockchain payments have changed over the years, how to get started with crypto merchant payments, and the history of USDC, the digital currency developed by Circle.com that represents over 6% of the total market cap of all crypto currency.
Featured speakers:
Gordon Liao, Chief Economist at Circle Internet Financial, LLC
Chief Economist Gordon's professional experience spans finance, tech and central banking — portfolio management at the Harvard endowment, policy advisory at the Federal Reserve, and research and strategy in Fintech. Gordon holds a Ph.D. in Economics from Harvard Business School and the Graduate School of Arts and Sciences, as well as an A.B., magna cum laude, in Applied Mathematics from Harvard College.
Ginger Schmeltzer, Principal at Mastercard Advisors
Seasoned payments professional and recognized digital banking and payments expert with significant experience providing strategic planning and analysis to the global banking and payments industry. Named one of Most Influential Women in Payments in 2013 and 2014. Often quoted in industry publications and frequent speaker at industry conferences, including BAI Retail Delivery, Digital Banking Summit, BAI Payments, NetFinance, NACHA Payments and CBA Live.
–
Stream the Event via Youtube
Food and beverage will be provided. Venue capacity is limited.
Parking Guide – Join Discord for Assistance
• Front of the Building ( facing Old Ivy Rd )
• Side of the Building ( facing NFT Mural )
• DO NOT Park at the bottom of the lot ( facing House of Fitness )