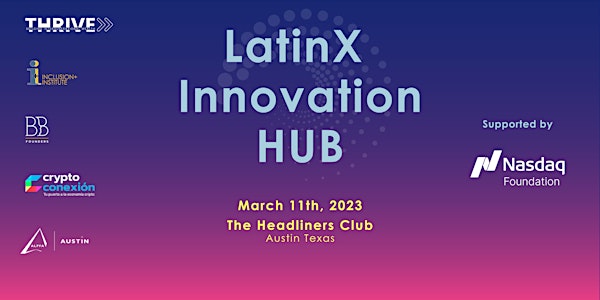 Join us for the launch of the LatinX Innovation HUB during SXSW where we will share the LatinX Point of View from disruptors leading innovation in technology, finance, and business leadership.
Supported by the Nasdaq Foundation, a key initiative of THRIVE, and with The Inclusion Plus Institute, Black & Brown Founders, CryptoConexión & ALPFA Austin, this full day event will bring together LatinX changemakers from across the country to elevate, support, and amplify their efforts.
Key Themes:
• Financial Empowerment and Wealth Building
• Future of Tech and LatinX Innovation
• LatinX changemakers: Leaders and Founders
• The Importance of Diversity and Inclusion in Tech
• Technology and Culture
This is one powerful and impactful day you don't want to miss!