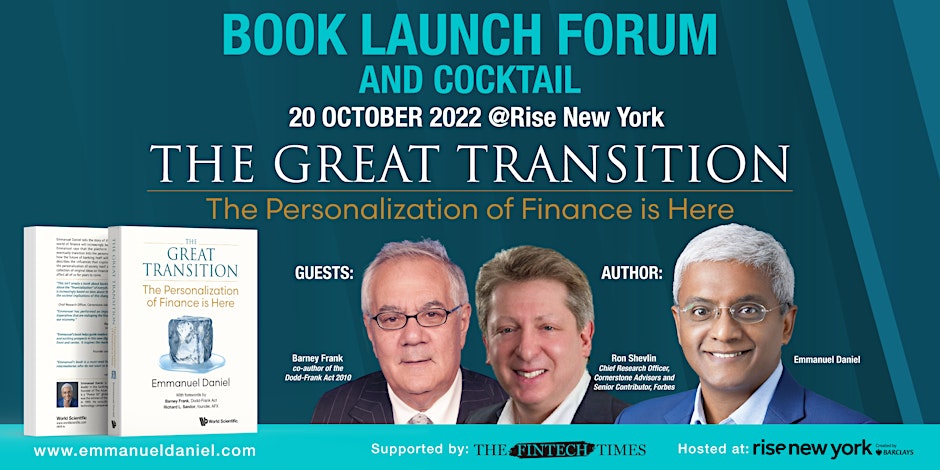 "The Great Transition – the personalization of finance is here"
An indepth and lively discussion with three sterling panelists from the financial industry
• Barney Frank, Former congressman, co-author of Dodd Frank Act
• Ron Shevlin, Senior Contributor, Forbes
• Emmanuel Daniel, Author, "The Great Transition – the personalization of finance is here"
The proposals for new legislation to manage the US transition into digital and decentralised finance that are on the table before mid-terms require informed debate. What should "personalization" mean to all the fintech innovations being developed on platform technology today? How should traditional banks view block-chains, cryptocurrencies and decentralised finance? Will CBDCs ever fly? Where are innovations in payments heading?
The global launch of Emmanuel Daniel's book, "The Great Transition – The Personalization of Finance is here" offers some framework for discussion. The book outlines a transition from the platform era into personalization. It brings together the disruption brought on by decentralised technology and the key features of traditional banking to chart the most likely course that the future of finance will take.
Together with two of the most authoritative personalities in finance today, the forum will provide all players in the innovation in finance an opportunity to debate the different possible outcomes and choices that are in front of the US today.
About the panel of speakers:Former congressman Barney Frank was the co-author of the Dodd-Frank Act 2011 promulgated to resolve the issues arising from the 2008 crisis. In the foreword to the book, he commends the book to his successors to ensure that policy-making and future banking rules should be more forward looking and anticipate where new crisis will come from.
Ron Shevlin is the Chief Research Officer, Cornerstone Advisors and is Senior Contributor, Forbes. He is an authoritative commentator on transitions taking place in the US banking industry driven by new disruptors and will provide perspective on how innovation in finance is evolving in the US.
Emmanuel Daniel is the founder of The Asian Banker, an award-winning writer and a global fintech influencer with considerable insights on innovations taking place around the world. He will be providing a briefing on the key features of the book and lead the discussion on the confluence of centralised and decentralised finance at different levels – platforms, traditional institutions and disruptive finance.
Be prepared for a wide-ranging and global discussion followed by cocktail reception!
16:30 – 17:00
Registration
17:00 – 17:45
Presentation by Barney Frank on the future of decentralized finance in the lead up to US mid-term elections and President Biden's executive order on "Ensuring responsible development of digital assets" and a quick discussion
17:45 – 18:00
Presentation by Emmanuel Daniel on "The Great Transition" as he explains the concepts and topics of:
• Personalization of Finance
• Platforms to Personalization
• Financialization of Everything, and
• Mass Amateurization of Finance
Comments from Ron Shevlin
18:00 – 18:30
Open dialogue
Moderated by Mark Walker, COO, The Fintech Power 50
18:30 – 19:30
Cocktail reception
Seats are limited, so please register early.
or Join virtually
Zoom: https://bit.ly/3CCgPdV
Meeting ID: 889 5695 5366 | PW: 345498
LinkedIn: https://bit.ly/3CrvVS3
Facebook: https://bit.ly/3CIFgp5
For media inquiry, please contact Jaya Jaya Myra – myra@jayajayamyraproductions.com
Supported by The Fintech Times
Hosted at Rise, created by Barclays
Organised by TAB Global