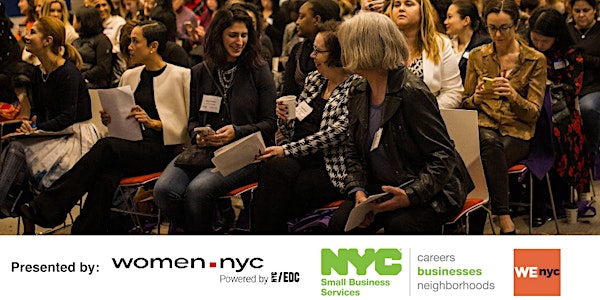 On Tuesday, April 11 at 5:30pm, join women.nyc and we.nyc to celebrate the launch of The Women.NYC Network: a platform where you can plug into high-growth industries in New York City.
If you're interested in tech, the green economy, offshore wind or life sciences, The Women.NYC Network will introduce you to an expert network of career mentors, business execs, and industry leaders to help you find your way.
This dynamic sisterhood will help you build meaningful relationships with peers who are shaping the future of NYC's most exciting industries. What you can expect at our launch event:
• Lean how to break into high-growth sectors
• Network with industry leaders and peers in various fields and roles
• Join Power Circles to share your career aspirations and goals, questions, challenges and more.
Guest speakers include:
Alicia Nieves, Emmy Award Winning Journalist & Main Anchor, FINTECH TV
Dr. Joan Fallon, Founder & CEO, Curemark
Tinia Pina, CEO, Renuble
Light refreshments will be served. Additional details below:
5pm: Doors open
5:30: Networking and Check In
6:00pm: Opening Remarks
6:15pm: Industry experts' panel
7:00pm: Power Circles
RSVP NOW to reserve your spot! We look forward to seeing you there!
*Disclaimers: (1) This event is open to the public and at no-cost, doors will be closed once the venue reaches capacity, arrive early. (2) By signing up for this event you accept to be photographed and recorded, and allow women.nyc to use the materials for informational and promotional purposes.(3) By registering to this event you accept to join our email list and receive information about future events and resources. (4) Food and drinks are provided until supplies last, and you decline to make the organizers responsible for any allergies or reactions the food could cause you.