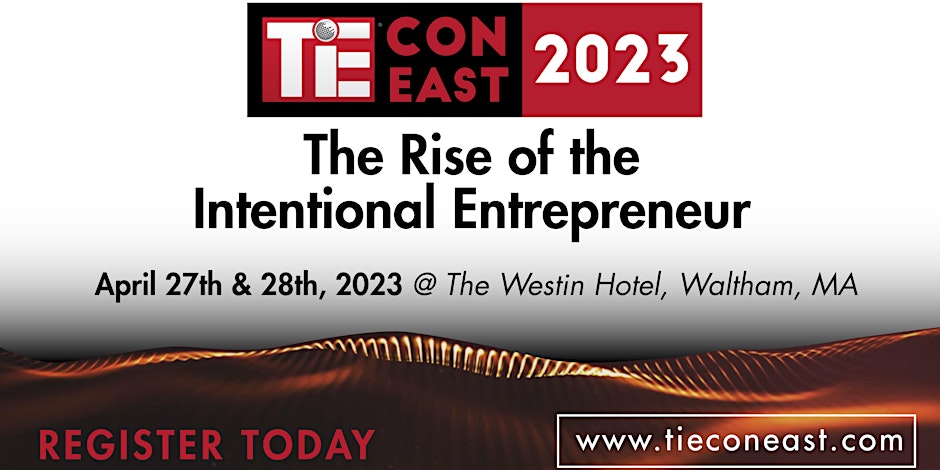 Join us in-person for TIECON East where we invite you to participate in the conversation with leading entrepreneurs, industry thought leaders, senior executives and investors.
As the largest conference of its kind centered around innovation and ground breaking technologies, TiECON EAST brings together leading entrepreneurs, academics, executives, and investors. This must-attend, signature event from TiE Boston delivers cutting edge trends, impactful learning and networking opportunities.
Attendees from leading companies such as Amazon, Microsoft, SalesForce, IBM, Kronos, our all-star charter members, and world-class speakers would be joining us in the multi-day conference, celebrating entrepreneurship, in particular, focused around the culture shifts in innovation.
Why Attend?Take advantage of this once-a-year opportunity:
• Get exposure to new business opportunities and help individuals and companies gain visibility in the industry.
• Get inspired from great speakers about innovation and trends to think creatively about the potential uses of technology.
• Take advantage of the networking opportunities to connect with potential partners, collaborators and clients.
• Leverage the conference to promote your branding and market your products to attract potential clients.
• Sponsorship opportunities to enhance the reputation of your products and/or services.
• Provide a platform to discuss and debate important issues to shape the direction of a particular field or industry.
• Opportunity to get mentoring and guidance from successful entrepreneurs and industry experts.
Technology and innovation are rapidly and drastically changing the way humans interact with the world that surrounds us. This conference creates opportunities for attendees to understand and shape the way that change takes place.
Who Should Attend?This must-attend event is designed for leaders and professionals from multiple sectors. The opportunity for face-to-face connection and real conversations with fellow industry leaders in the area is extraordinary and testimonials have shared that they are "best-in-class."
Entrepreneurs, corporate executives, students, academic scholars, venture capitalists – all share a common fabric of intellectual curiosity. This conference brings audiences of varying experiences and backgrounds to immerse in a 2 day event dedicated to learning and connecting with like-minded community.
Want to know what to expect? See our 2021 highlight reel.
About the OrganizerTiE Boston is focused on supporting entrepreneurs throughout their lifecycle — from ideation to creation, through growth, wealth creation and ultimately, support of future founders. By encouraging collaboration between individuals throughout the entrepreneurial process, with programs, events, other forums created by entrepreneurs, TiE has created a repeatable cycle to foster the next generation of entrepreneurship
Attendee Guidelines• By attending, attendees agree not to take part in canvassing, leafleting or harassment. Failure to adhere to this could result in being asked to leave the event.
• Official photographers and film crew will be taking photographs and videos at TiECON East 2023. Organizers may use such materials, which may include photographs and video of visitors, for the promotion of future events.
• To attend TiECON East, a ticket must be secured. To purchase your ticket, please purchase your ticket beforehand.
Check out the official conference website (www.tieconeast.com) to get more details on confirmed speakers, venue, agenda and more.