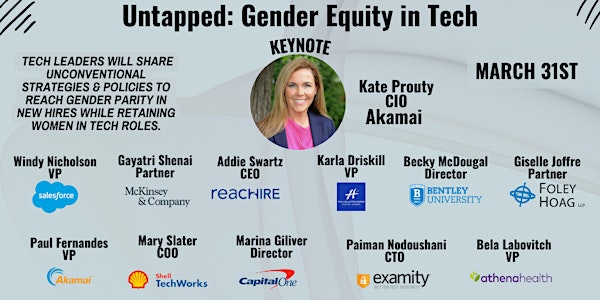 In this program, focused on increasing the number of women at all levels in a tech organization, we will hear from tech leaders who know how to increase the representation of women. They will share unconventional strategies and policies that you can introduce to your companies to reach gender parity in new hires while retaining women in tech roles. Together, we will create a roadmap to achieve greater gender diversity across tech teams and in executive roles while providing a path to equitable advancement. The pandemic further impacted the broken rung problem for women in tech roles, but it is not beyond repair.
Who Should Attend
This conference is for leaders who have an impact on their policy and culture and who carry the titles of Directors, Sr. Directors, VPs, or direct reports to CXO's.
Program Highlights
– Build a culture of continuous learning for all members of your teams – from UX to Development to QA and Operations – as technology strategies and priorities evolve
– Fix the gender gaps on your technical teams through cross-functional collaboration
– Measure the impact of diverse technical teams on leadership effectiveness and your bottom line
____________________________________________________________________________________
8:15 AM
• Registration and Networking
9:00 AM
• Keynote: Kate Prouty, CIO, Akamai
The journey, lesson's and road to the top
9:30 Session I
• Top Tech Trends and How to Set up Women to Succeed
Women historically have been underrepresented in tech leadership. While companies are trying to prioritize diversity, women still occupy less than a quarter of current C-suite positions. This gap is likely to widen as companies leapfrog their technology stacks with AI and Machine Learning tools, which will require more effort for women to close an even larger gap in their upskilling and navigating their career path.
This session will help leaders understand how to balance priorities between the constantly evolving technology landscape and creating long-lasting programs for gender diversity in leadership.
10:30AM – BREAK and Network
10:45AM – Session II
• Building Pathways to Leadership
This session will help you recognize how unconscious bias curbs positive impact in these well- intentioned programs. We will touch on the effectiveness of policy and how it can ignite change. We will outline how to build successful programs and policy that will give women the tools they need to grow and evolve in their careers and on your team.
11:45 AM Session III
• Interactive Workshop: Unlocking Your Executive Presence
Many women bumping up against the invisible barriers to the top are told they need to display more Executive Presence; however, when pressed to clarify what this means, we are often told we need to exude more confidence.
12:45PM – Wrap Up and Close and enjoy a few more minutes to network
Refunds are only available up until 7 days before the event.
This program is part of the MassTLC Tech Series 2023: Leading Technology Organizations Into the Future, comprised of four in-person conferences that bring the latest tech trends and innovations to the forefront for local industry leaders. Each of the four conferences will dive into specific topics that reflect what tech leaders need to know to stay ahead.