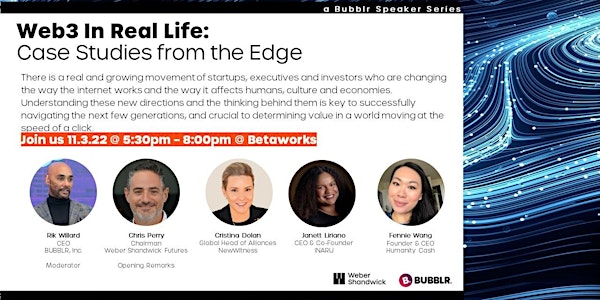 We are living within a profound and unprecedented paradigm shift that combines technology with human agency in ways that were unimaginable a generation ago. While the world figures out what "Web3" means to various embedded interests, there is a real and growing movement of startups, executives and investors who are changing the way the internet works and the way it affects humans, culture and finance.
Whether you are a technologist, an investor, a founder, or just a human on earth — understanding these new directions, and the thinking behind them, is key to successfully navigating the next few generations and crucial to determining value in a world moving at the speed of a click.
Our panelists have been carefully selected to provide answers to difficult questions about the Next Web, and have practical experience in building and managing the complexity they find along the way — taking us past the hype and into the reality of a new way of reconciling humanity with technology for more equitable and sustainable outcomes.
MODERATOR
RIK WILLARD | CEO @ BUBBLR, INC.
Rik is the CEO of BUBBLR (OTC:BBLR), a company focused on building ethical digital frameworks for more equitable social and financial outcomes. A successful entrepreneur, tech fund manager and advocate of Internet privacy and digital ethics, he has keynoted events by the Harvard Business School, Cornell University, the Kaufmann Institute at Stern/NYU, The Asian Leadership Conference (S. Korea), World Web Forum (Switzerland), Katapult Future Fest (Norway), Emerging/Evolving Links (Brazil & Spain) and numerous other institutions, events and forums in the US, EU, AIPAC and LATAM. Rik is quoted in numerous Forbes articles, has appeared on CNN, CNBC and Cheddar TV, and was cited in 2015's groundbreaking book "The Age of Cryptocurrency" (Casey & Vigna) as being among the pioneering Venture Executives in emerging digital value. Rik is also featured in the international award-winning film documentary "The Blockchain And Us" (2017).
OPENING REMARKS
CHRIS PERRY | CHAIRMAN, WEBER SHANDWICK FUTURES
Drawing on more than 20 years of digital and media experience, Chris specializes in helping clients decode the rapidly changing media environment, translating trends into tangible commercial opportunities. He has counseled global business leaders including IBM, General Motors, HP, Novartis, PepsiCo, Verizon Wireless and Unilever on transformational communications programs.
Beyond driving enterprise-wide innovation, Chris leads a team of more than 1,000 specialists across creative technology, data and analytics, performance media, UX, business intelligence and media R&D. He also drives Media Genius, Weber Shandwick's global platform for decoding disruption in media, culture and technology to make sense of what's happening and navigate what's next.
Chris is a sought-after thought leader who speaks regularly at industry events including Web Summit, Collision, SXSW, Fast Company's Innovation Festival, Digital Age (Brazil), World 50 and Advertising Week. His writing and work have been featured in Forbes, Fortune, The New York Times, Washington Post, Ad Age and Strategy + Business, to name a few. Chris has guest lectured at Northwestern and NYU, and he is the lead instructor for the agency's global Media Genius Fellows student program.
PANELISTS
CRISTINA DOLAN | HEAD OF GLOBAL ALLIANCES @ NETWITNESS
Cristina is an engineer, computer scientist and entrepreneur that has led the transformation of businesses and built revolutionary products utilizing advanced technologies across many industries including Cyber Security, FinTech, Telecom, Media, InsurTech and Retail. She currently heads up Global Alliances for RSA NetWitness, and was a co-founder of OneMain.com, which grew to be the 10th largest ISP after a successful IPO (Acquired by Earthlink). Formerly, she held executive roles at Disney, Hearst, IBM, Oracle and Tradingscreen.
The recently published book 'Transparency in ESG and the Circular Economy' which she co-authored has been the subject of keynote speeches and her World Economic Forum article. 'Cybersecurity is the most immediate financially material sustainability and ESG risk organizations face, and has been weaponized by nation states.'
Cristina earned a master's degree from the MIT Media Lab and also holds a Master of Computer Science Engineering and Bachelor of Electrical Engineering. Born in New York City, she is a native English speaker and is also fluent in Spanish which was her first language. She is the former Chair of the MIT Enterprise Forum and the former President of the MIT Club of New York and former member of the MIT Alumni Association Selection Committee.
JANETT LIRIANO | CEO & CO-FOUNDER @ INARU
Janett is the CEO and Co-Founder of Inaru, a vertically-integrated cacao brand based in the Dominican Republic. Inaru is backed by 1517, The Helm, and former execs from Hershey, Soylent, Unity, and Roblox. She is an executive and entrepreneur with a focus on empathetic innovation, and has raised over $1M in venture funding (one of only 30 Black or Latina women to do so).
Prior to Inaru, Janett was the first employee and Chief of Staff at Cambrian Biopharma, a NYC-based drug development company, where she he grew the team to 20 employees, drove a $60M fundraise for Cambrian and supported the IPO of NASDAQ: SNSE. She is named in several patents for her innovations in advanced materials, and cited in several industry journals/reports for her professional insights. She is a formally-trained audio engineer and master electrician. Her design technology studies at New York's Fame School and Boston's Emerson College greatly inform her creative approach to technical challenges.
Janett is an active member the Leadership Council for Tech: NYC, an inaugural member of the United Nations Decade of Women Initiative, a 2019 Forbes 30 Under 30 Listmaker for Manufacturing and Industry, and Chair of the Women's Leadership Board for Global Connections for Women (GC4W) and was named Entrepreneur of the Year (2019) by GC4W.
FENNIE WANG | FOUNDER @ HUMANITY CASH
Fennie is a lawyer, entrepreneur and founder of Humanity Cash, whose mission is to create a circular economy powered by Universal Basic Income (UBI) and community currencies, which ensure that every dollar strengthens local economies. As the founder of Dionysus Labs, a legal and technology consultancy, she has worked with organizations like the Red Cross and United Nations Development Programme on the application of blockchain to humanitarian applications. Other projects have focused on digital identity and social media, and developing the concept of community digital currencies/stablecoins.
Fennie developed a deep knowledge of blockchain technology, particularly in the decentralized finance space, as Associate General Counsel at MakerDAO, Head of Strategy at Bancor, and as co-founder of ixo, a blockchain for social impact measurement. In her previous life, she was a lawyer at international law firms in New York and London, practicing securities enforcement and capital markets.
She started her career as a research analyst covering corporate bond markets at JPMorgan. Fennie received her law degree from Columbia University and her undergraduate degrees from the University of California, Berkeley.