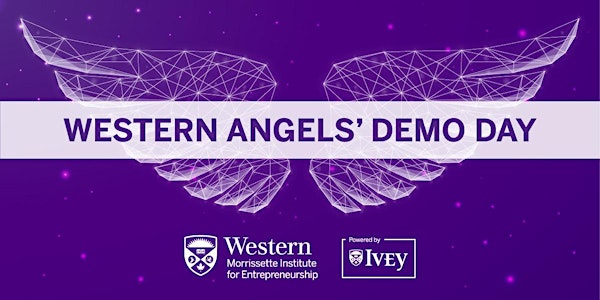 Join us in Toronto for Western Angels' Demo Day!
We're bringing together budding entrepreneurs and investors from across our Western University community to form new networks and partnerships to propel new businesses forward.
The event will kick-off with a special panel discussion on the venture and angel capital landscape across Canada and the United States. Our top tier panel will include:
• Claudio Rojas, BA'06, MBA '08, JD'09, CEO of the National Angel Capital Organization (NACO), Canada's professional association for angel investors.
• Janet Bannister, HBA '92, Partner at Canada's leading early-stage VC firm, Real Ventures
• Mona Sabet, LLB'92, Chief Corporate Strategy Officer at San Francisco-based internet publishing company, UserTesting
Following the discussion, Five exciting start-ups will showcase their businesses and explain the investment opportunity.
Each participating team will be allotted 15 minutes to publicly pitch their venture. The pitch comprises of an 8-10 minute presentation followed by 5-7 minutes of public questions from our investors. After all the teams have pitched and presented their ventures, we will break out into five rooms, where investors can choose which startups they want to network with further and make connections.
Western Angels' Demo Day was made possible by the generous support of The Dobson Foundation.
—————————————————————————————-
Event Schedule:
1:30 PM – Registration
2:00 PM – Panel Discussion: Venture & Angel Capital Landscape across North America
3:00 – 3:15 PM – Break
3:15 – 4:40 PM – Five companies pitch
4:40 PM – Closing remarks
4:45 PM – Breakout rooms open & reception
—————————————————————————————-
Event Location:
Ivey Donald K. Johnson Centre (Located in: First Canadian Place)
130 King St W, Toronto, ON M5X 1A9
Google Map: https://g.page/IveyDonaldKJohnsonCentre?share
—————————————————————————————-
Please note: Due to limited space, seats are reserved for angel investors and individuals representing venture capital firms.
—————————————————————————————-
EVENT DISCLAIMER:
The information and data provided in connection with the Western Angels' Demo Day event is for informational purposes only. Western University makes no representations as to the accuracy, completeness, suitability or validity of any information. Attendees are responsible for independently verifying the accuracy of any information provided in connection with the Event. Western University is facilitating access to product or service information from the third parties featured in the Event but this does not constitute any endorsement or recommendation from Western University regarding the quality of the product or service. Western University is not making any recommendations to any user regarding making any investment or business relationship with the third parties featured at the Event.
Western University is not the agent or representative of the third parties featured at the Event and is not responsible for any loss or damage whatsoever arising out of or in connection with any information provided by such parties. Investors are responsible for making their own assessment of all information contained on or in connection with the Event and any user wishing to invest or enter into a relationship with a third party featured at the Event should obtain independent advice before acting.
—————————————————————————————-