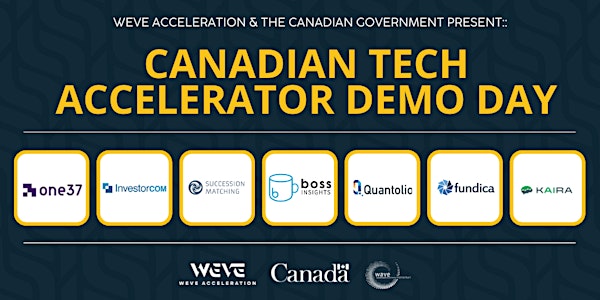 It's that time of the cohort! Our Demo Day, the culmination of weeks of hard work and aspiration, will take place on March 16th at 6:30 PM EST.
During the event, each of our Winter Cohort startups will pitch in real-time followed by a Q&A session from the audience.
Following are the details of the participating startups:
• One37 Platform delivers digital trust by enabling businesses and users to connect, exchange, and verify trusted and reusable data in a secure and private manner.
• InvestorCOM: A leading provider of regulatory compliance software and communications solutions for wealth managers, asset managers, and insurers in the financial services industry.
• SuccessionMatching: A marketplace for buying and selling businesses, increasing chances of a business's successful sale by matching them with private equity firms.
• Boss Insights: An award-winning leader in open banking, linking fintechs, neobanks, & financial institutions to their business clients' financial accounting, banking, commerce/sales, KYB, payroll, tax/IRS data, and more.
• Quantolio: Company uses artificial intelligence to help financial institutions make better decisions with their data.
• Kaira: Company that offers a new type of benefit for employers to offer their employees a digital and personalized financial coaching application supported by AI.
• Fundica: An AI-powered funding search engine that continuously aggregates information from over ten thousand funding programs across North America using discovery and tracking bots, funders, collaboration partners, and a funding research team.
We look forward to having you with us!
The WEVE Team