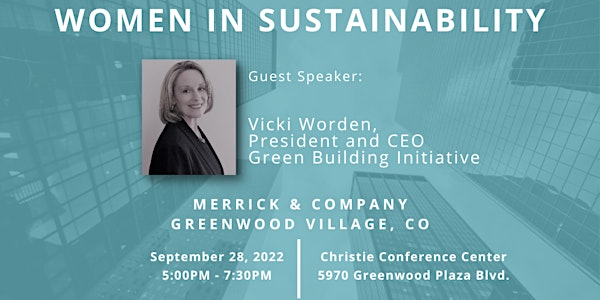 This Women in Sustainability event is co-hosted by the Society of Women Engineering Rocky Mountain Section and Merrick Professional Women's Roundtable.
Registration check-in, Networking, and Appetizers will be held 5:00-6:00pm at Merrick's Christie Conference Center in Greenwood Village. You must register for this in-person portion of the event.
The presentation portion will begin at 6:00pm at Merrick's Christie Conference Center in Greenwood Village. The presentation will also be livestreamed to share with those that register for the virtual only component.
As a sustainability pro and former consultant, Vicki Worden has 25-years of experience advancing objectives within a wide variety of industries, including solar, wind, parking, furniture, mattress, composites, wood products and rainwater harvesting. Worden enjoys writing and speaking on topics impacting decision making within the real estate sector and she recently co-authored a chapter on ESG and Net Zero in a new book – Greener Data – that launched on Amazon in April of 2022 and quickly became a best-seller. She is also the former chair of the National Institute of Building Sciences Consultative Council, a member of Women Executives in Building, and serves as a judge of the U.S. Dept. of Energy's Solar Decathlon. She holds an MBA from Loyola University Maryland and a BA in Political Science/International Relations from West Chester University of Pennsylvania.
ABOUT THE SPEAKER:
Vicki Worden serves as President and CEO of the Green Building Initiative (GBI), an international nonprofit dedicated to reducing climate impacts by improving the built environment. During her tenure at GBI, she led this start-up organization into a thriving community that supports integration of sustainability and net zero, health and wellness, and resilience objectives throughout some of the largest real estate portfolios in the world. She is proud of GBI's announcement in 2022 that it has now certified more than half a billion square feet of commercial building space in North America using its internationally-recognized Green Globes building certification program and its federal Guiding Principles Compliance program.
In 2006, Worden moved from the Washington, DC, area to Camden, Maine, where she feeds her soul with an abundance of hiking and outdoor activities along with her husband and dogs. Learn more about the Green Building Initiative at thegbi.org, and connect with Worden on LinkedIn, Twitter, or via email at vworden@thegbi.org.