Network with a Community of Women in Tech
Join us at the stunning SoFi Stadium Premiere Center in Playa Vista for an unforgettable night of career building and networking with fellow women with careers in technology. Plus, get a sneak peak of the amazing new stadium, and how it will transform our city!
Update your Linkedin profile, grab your resume, business cards, and come out meet very cool LA companies searching for great tech talent, just like you.
See Important Parking info Below
Meet Some of the Coolest Technology Companies in LA
Discover new, exciting career opportunities and get connected with companies looking to build their teams. Interact directly with HR representatives to discuss what it's like to work at their company and learn about their open positions. Looking for a shorter commute, more creative work culture, a chance to enhance your skills by working with the newest technologies, better benefits or pay, join us for this special night of career building!
Our Recruiting Sponsors

Based in El Segundo. eSalon creates award-winning home hair color shipped to your door. eSalon has the following open roles and more:
Sr Software Engineer
In-depth knowledge of (Linux/nginx/MySQL/PHP) and React.
Lead UX Engineer
Must have knowledge and experience in UX best practices, interaction design, and HCI.

Based in Marina del Rey. Emerge is a teleportation company working at the intersection of neuroscience, immersive, and affective computing, developing products that bring touch, emotion, and natural interaction to augmented experiences. Emerge has the following open roles:
Sr. Software Engineer, C++
Sr. Software Engineer, XR
Head of Marketing & Communications
Project Manager
Executive Admin


Relativity Space is based in Inglewood, CA. Their vision is to build the future of humanity in space — starting with rockets. Relativity Space is building the world's first entirely 3D printed rocket, Terran 1. Open roles include:
Machine Learning Engineer
Director of Integrated Software
Senior Avionics Software Engineer
Lead Propulsion Technician

PeerStreet is an award-winning software platform for investing in real estate debt, acting as a two-sided marketplace that serves both investors and private lenders. Much like Amazon and Airbnb have aligned buyers and sellers through their marketplace, PeerStreet does the same, connecting investors with unprecedented access to quality real estate investments and lenders with global, diversified capital sources.
We're a private financial technology company backed by Andreessen Horowitz, Thomvest, and Felicis Ventures, among others. Founded in 2013, PeerStreet continues to grow at a rapid pace, and has already funded well over $1.5 billion in loans through our platform. We strive to ensure our best-in-class company culture grows with us by investing in our employees so they can perform at their best. And we walk the walk, with company equity, unlimited PTO, full health coverage, company-wide celebrations (in and out of the office), and more. So join us at our sunny headquarters in El Segundo, CA, and help us transform the real estate investing industry—forever and for the better.
Senior Software Engineer (Full Stack)
4+ years of SW engineering experience.
FinTech Accountant
Data Engineer
DevOps Engineer
Accountant
Business Development Associate

Based in El Segundo. MotorTrend Group is the largest automotive media company in the world. Comprised of iconic brands, MTG is the top digital and social destination for auto enthusiasts + the only linear network and OTT platform dedicated entirely to automotive content. Join a incredible team!
Lead SDET
Senior Software Engineer, React
Senior Software Engineer, Backend Java
Software Engineer – TV Platforms
Creative Director, UX lead
Director, Product Management
Product UI Designer

Hyperloop One is reinventing transportation to eliminate barriers of time and distance by using hyperloop transport to move cargo and passengers immediately, safely, efficiently, and sustainably. Hyperloop technology will allow pod vehicles to propel by magnetic levitation through a vacuum tube at faster-than-airplane speeds. Our start up headquarters is located in the Arts District of DTLA.
Hyperloop One is recruiting for many areas in the engineering domain: mechanical design, embedded software, power electronics, project management, machine intelligence and analytics.

Insight Data Science is a intensive 7-week post-doctoral training fellowship bridging the gap between academia & data science. Located in Los Angeles.
Is Your Company Looking For Tech Talent?
Are you a corporate, SME or startup looking to hire from within the amazing Women's Voices in Tech community? Participating as a sponsor at this event will give you the opportunity to connect with hundreds of experienced women Software Engineers, Web Developers, UX Designers, Mobile Developers, DevOps Engineers and more! To learn how you can become a sponsor, contact us through the contact link at the bottom of this page.
Meet Our Special Guests

Build your Community, Build your Career
"Community comes in all different forms, and can help you grow both as a person, and a professional. Learn how investing in communities – online and IRL, can not only enrich your life, but lead to career opportunities you never knew existed!" Ashley Sumner is the CEO & Co-founder of Quilt. Quilt is a mobile application that connects women to gather in their homes for meaningful conversations and unique experiences that foster meaningful connections.


Learn Top Networking Tips with Kylie Hodges
Want to know the fastest, easiest, most fun way to connect with people, and make your networking count when you're looking for a job? Join us for Kylie Hodges, Founder of Wing Woman Collective's pop-up presentation to find out!

Learn Top Job Search Tips with Kristen Starick and Elissa Wu
Kristen and Elissa are retained recruiting partners at Startup Tap. Startup Tap specializies in recruiting solutions for startups. They know a thing or two about what works (and what doesn't!) when you're looking for a new job – come learn their top tips and get ready to leapfrog ahead in your career!!
---
Tell Us About You!
Help us get to know the Women's Voices in Tech community better and get in the running to win a $50 Amazing gift card! Take the survey
Want to learn more about the SoFi Stadium Premiere Center? Check out this video.
Arriving at the SoFi Stadium Premiere Center
There is plenty of street parking available, or paid parking in the building.
About the SoFi Stadium Preimere Center
The SoFi Stadium Preimere Center provides an interactive first glimpse of the new LA Stadium and surrounding entertainment complex being built in Inglewood.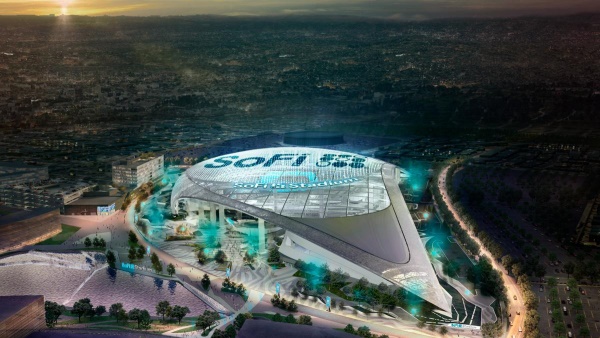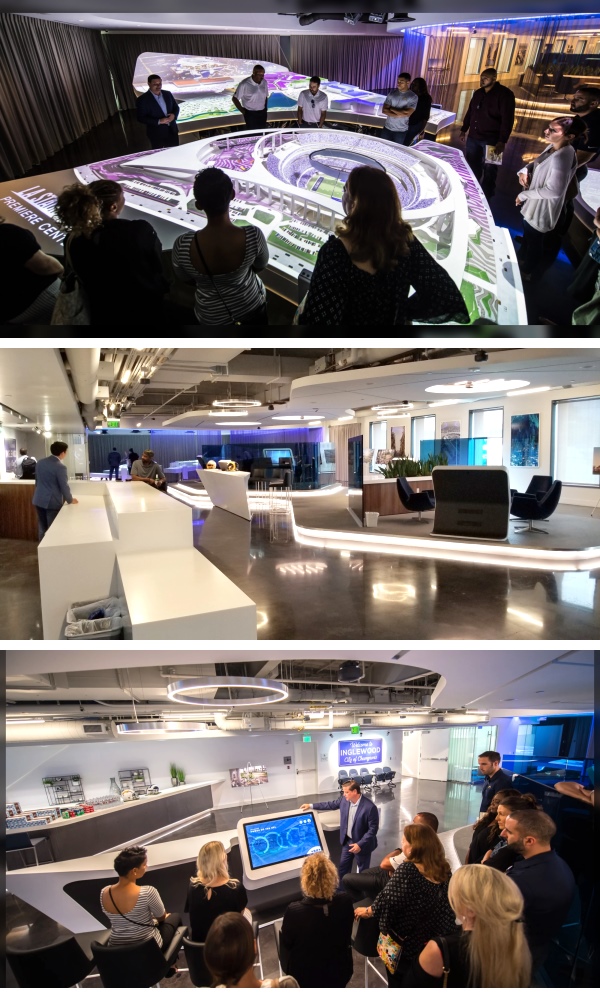 This event is not intended for recruitment companies or non-sponsoring in-house recruiters. If you're interested in exhibiting as a sponsor, please contact Victoria Dew at victoria@dewpointcomms.com
Important Parking Information
This is a very popular event. The number of attendees may surpass the capacity of the venue. We cannot guarantee that everyone wishing to attend this event will gain access. However, to increase the odds of you gaining entry, please arrive early. There should be plenty of street parking on the block and on the blocks near the event location. We suggest that persons utilize a ride sharing service.
Using Our Lyft Event Code for Transportation
Motor Trend Group has graciously provided a transportation code through Lyft to help some attendees. Follow the link here to use our Lyft code for this event. The pickup location will be:
The Promenade at Howard Hughes Center
6081 Center Dr, Los Angeles, CA
The Promenade at Howard Hughes Center is approximately 2 miles from the event. Parking in the promenade parking structure shouldn't cost more than $3.00 for the evening. Enter the following code in the Promos section of your Lyft app. WOMENNTECH1023
If you have any questions, please contact Phillip North @ (310) 956-8574
About Women's Voices in Tech
Women's Voices in Tech is presented by Code District Software, Engineering Training. Our purpose is to help women in the technology field and those aspiring to begin careers in the field, to forge strong, lasting relationships within the community. We're creating unique opportunities & connections to help you grow your business and career.