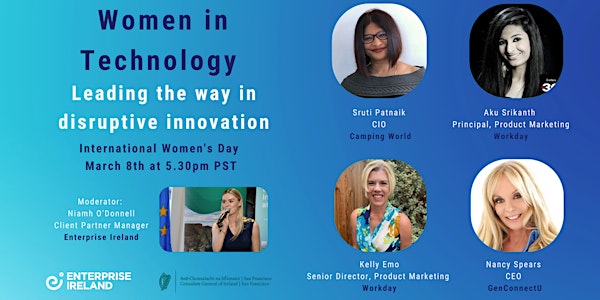 Enterprise Ireland, in association with the Consulate General of Ireland, welcomes you to our discussion celebrating the global success of female founders and senior executives here in the US.
To celebrate International Women's Day, we are honoured to invite you to 'Women in Technology: Leading the way in Disruptive Innovation'. This event will take place Wednesday, March 8th at 5.30pm PST in Ireland House, San Francisco.
Our 'Fireside Chat' welcomes four trailblazing female leaders in business technology:
-Sruti Patnaik, CIO of Camping World
-Kelly Emo, Senior Director, Product Marketing at Workday
-Aku Srikanth, Principal, Product Marketing at Workday
-Nancy Spears, CEO at GenConnectU
The opportunities and challenges associated with scaling businesses will be a key theme throughout this discussion. There will be beverages and small bites provided.